In this business age, collaboration is an ever-growing market. Specialized teams whose dynamics feed and compliment each other form across oceans and transcend culture. But, it's not exactly new, even if the web makes it easy to do. For years, some of the best designers, artists, programmers and more have banded together to innovate. Pre-dating the internet, a truly influential design collective deserves a look: the Memphis group.
The 1980's collaborative who authored the Memphis style and idealogy was led by Italian visionary and architect Ettore Sottsass. What made them so impactful in design and even fashion, was their risk-taking redefinition of what furniture could look like – in color, shape and texture.
Donatella Versace once said, "I have been obsessed with the Italian architect and designer Sottsass and the Memphis Group he found all my life. I love everything about Sottsass's work – it's modern, optimistic, humorous, functional and intelligent."
Vibrant blocks of bright colors like yellow, turquoise and magenta, some covered with black squiggles, rebelled against the naturalistic ideals and silhouettes leftover from mid-century modernism. These were definitely not your family's furnishings or anything close.
When the group showed their work for the first time at the Salone del Mobile Milano in 1981, they were met with radical viewpoints on their work, from passionate approval to repulsion. Imagine gold laminated pieces of plastic placed upon distressed wood, hot pink wooden blocks holding flamboyantly yellow lampshades. The look was mind-blowing at the time.
While the works of Memphis might not have made it to the average living room then or even now, the Memphis group kicked up a wave of new design – a prescient one. For example, Sottsass was an early influence on the designer Karim Rashid (who became a reference point for me during our work with Totem Design). Rashid's anti-nostalgia aesthetic have infused furniture design, packaging, fashion, restaurant and hotel design (pink amorphous pools, undulating couches). Looking around the New York City skyline, broken geometric forms and buildings doubling as art pieces show that Sottsass and the Memphis Group's one-time radical vision no longer seems so strange.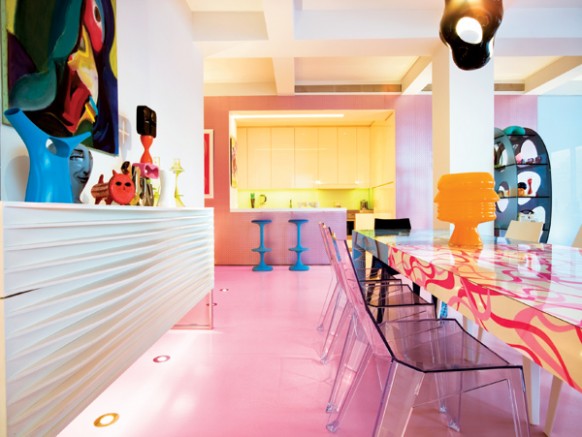 Stories of collaboration bringing about bold visuals remind me that even my studio's creative output thrives on my work with others. At Rome Design Agency, we harness talent from around the world to create graphic expressions for every client. Working in collaboration means support is built into the concept. Perhaps Sottsass's design beliefs never would have taken off without inventive artists that embraced them. The group mind expands and multiplies the imaginative possibilities.
While my studio and Rome Design Agency may not create the next radical marketing move in interior design, we are a bi-product of the creative teams who precede us. Collaboration is only successful when focused individuals have the space to elaborate, contest and refine ideas. Bravo to Memphis for breaking the design mold – and for inspiring creative collaborations and living rooms ever since.