A pair of shoes came across my radar that stopped me in my tracks. While I'm a known shoe hunter and former shoe collector (I've gotten more ecological as of late in terms of accumulating objects), these particular heels spoke to me. I discovered the design was from the mind of an Italian designer based in New York – Silvia Avanzi, creator of the shoe company Gray Matters..
Silvia Avanzi brought a fresh face to the world of luxurious and stylistic fashion by understanding the value in the new-but-practical. By utilizing her skills in the marketing and advertising arena, Avanzi brought to life avant-garde, artisanal heels for women .  She said, "I asked myself, 'What do women want today, and what do we need, really?' We feel everything has been done and redone, and I'm not the type of person who simply wants women to spend money. I want her to be happy with her purchases."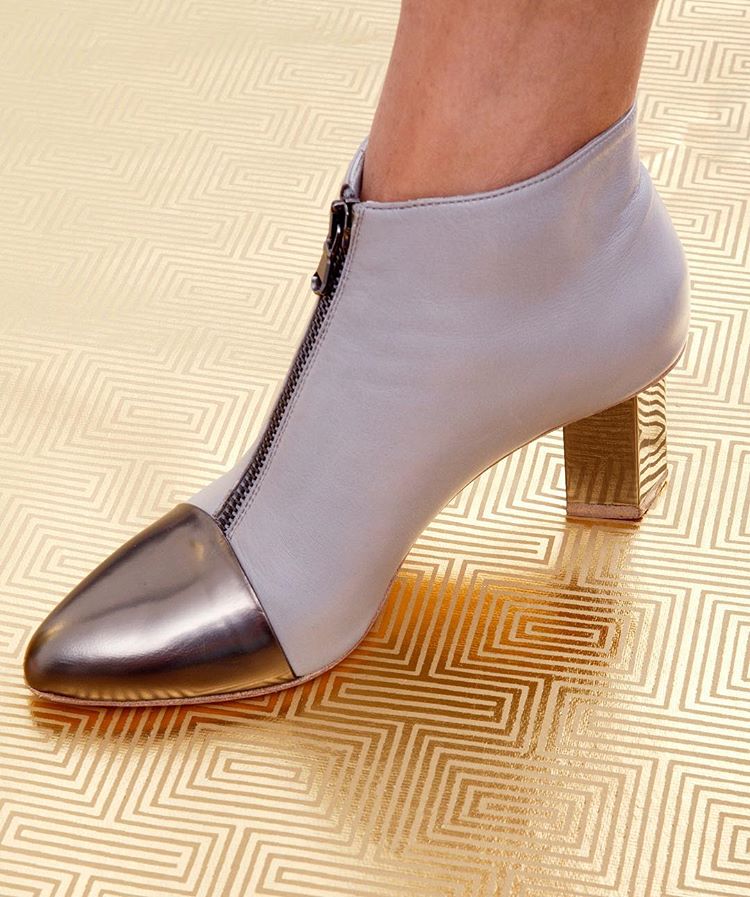 Her sleek line of iconic heels was the answer. Her brand has launched with a simple look that feels both timeless and futuristic – smooth leather heeled shoes and ankle boots that encases the entire foot. The heels are either cylindric, like sleek mini columns; or wedges – no flats in the line so far. There are no embellishments, which draws the eye to its graceful, minimal lines and the high-quality leather.
When creating the design, Avanzi started with the heel of the shoe before focusing on any other aspects. The shoes' minimalist look is buttressed by heels that resemble architectural elements. The quality of the heel can be seen in every detail – they are created by the same company who creates for Fendi, Missoni and Dior. An added bonus? Most of the shoes production is centered in Italy by leather artisans.
Avanzi's New York-Italy connection rings home for me, of course. She grew up just outside the Veneto region of Italy – known for its craftsmanship and leatherwork within the high-end shoemaking world. But she's adopted New York as her home, and the base for her gorgeous company.
Outside of creating beautiful unique shoes, Avanzi also caught my eye because of her powerful inspiration to women. There is nothing more inspiring than to see strong women supporting the women of the world. Her unshaken dedication to bringing confidence and style to anyone who purchases her goods is evident in all the sculptural pieces she creates. Her versatile pieces enhance confidence and character in women to make them unforgettable in any of her designs.
You can read more about Silvia Avanzi in a recent interview with the New York Times Styles section.