I recently made a whirlwind trip to New York – three nights only – to attend the opening of my solo art show. With such limited time, I had to forego my usual rounds of favorite stops. But top of my list was visiting the Whitney Biennial. After a three-year hiatus, the show this year provided a breath of fresh life in every piece it absorbs into its walls. Every artist featured in the Whitney Biennial offered the show their own unique design of elemental natures. While each could bring about hours of conceptual conversation and appreciative observations, there were a few artists whose works stood out.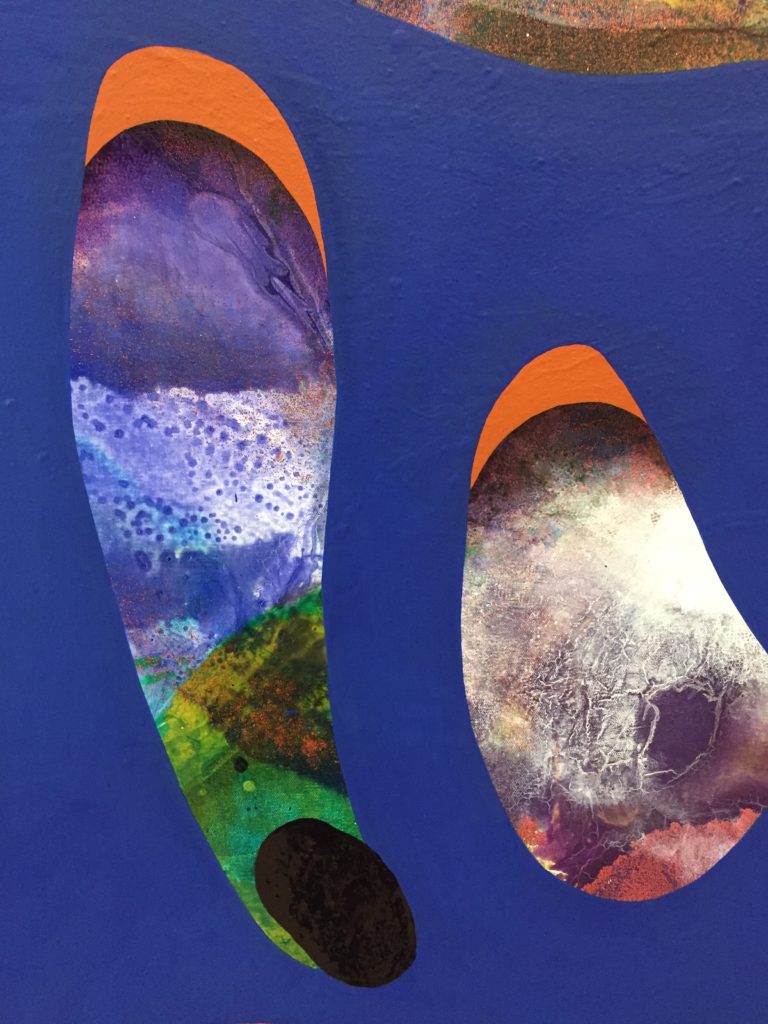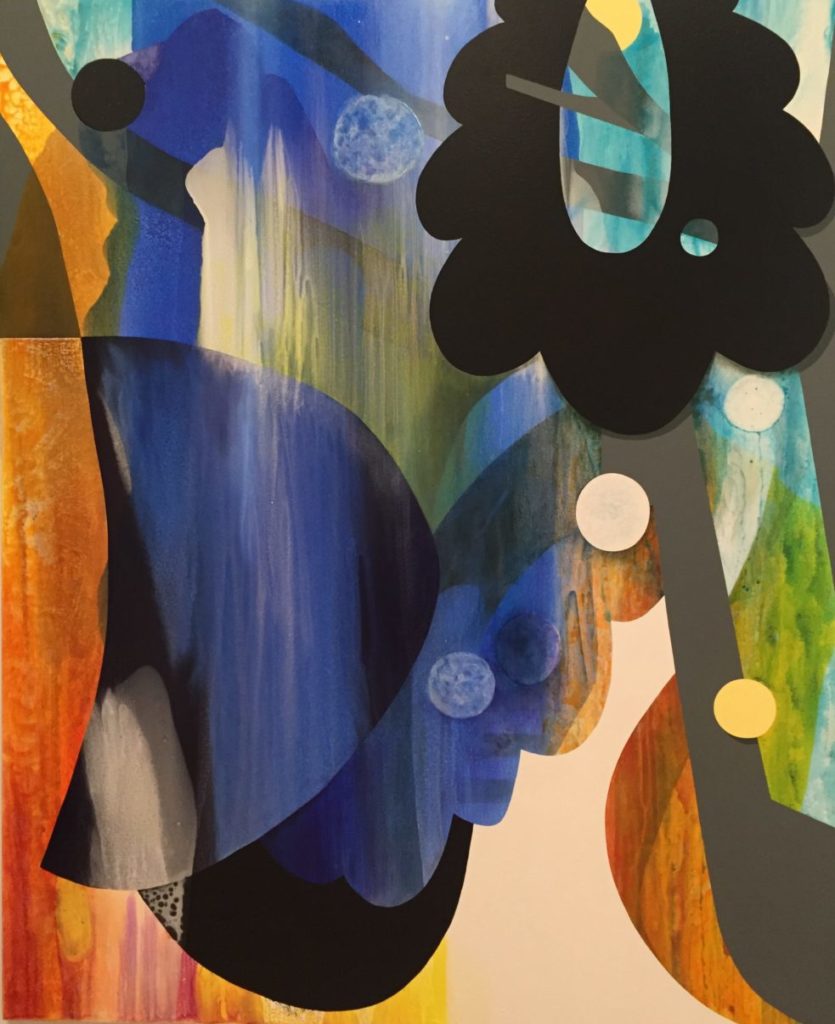 Carrie Moyer caught my eye with her exceptional paintings. Her use of vibrant hues combining the cool toning nature over effervescent brights added to a sense of dichotomy in the abstract works. Her overlaying vinyl paint, with its flat opaqueness, on multicolored gradient backgrounds felt as if I were allowed to see a magical underworld through elliptical windows.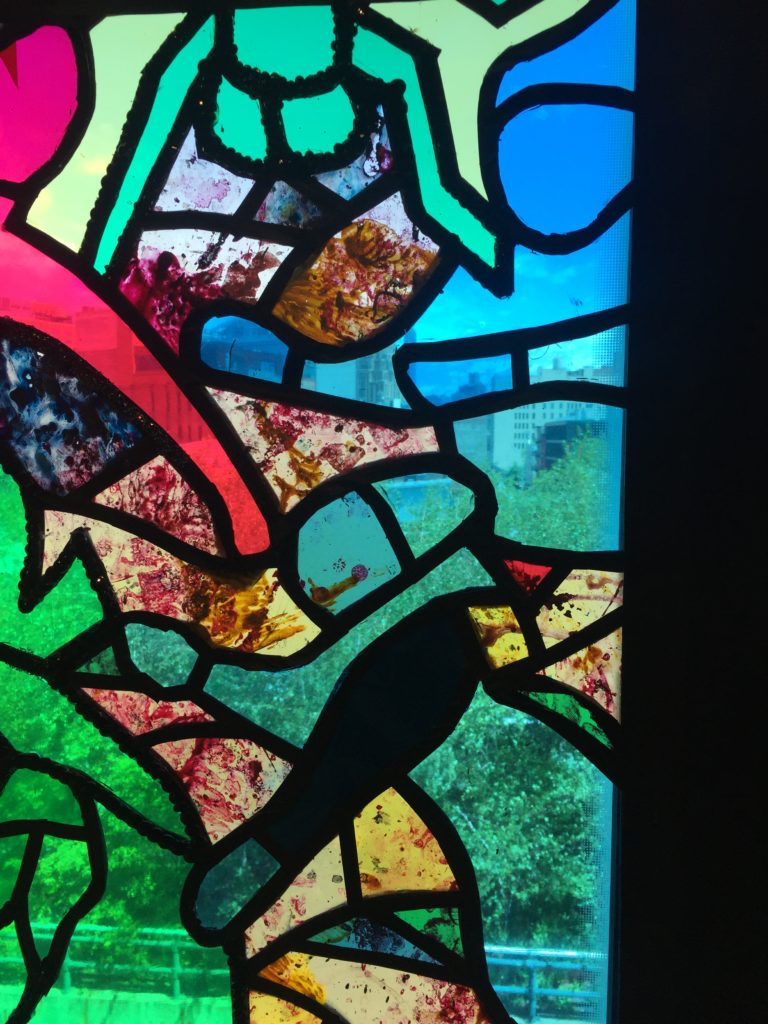 Speaking of windows, as I walked into Rául De Nieves's installation at the Whitney, a monumental mural of stained glass overwhelmed my vision. The 18 panels of candy colored glass, the handiwork of Nieves himself, portray a narrative of his own personal life story, depicting triumph over self-doubt and struggle. Sculptures covered in his signature beadwork stand in front of the mural, their rainbow-hues echoing the backdrop.
Windows seemed to be incorporated in many works this year, even in the unlikeliest of ways. Asad Raza's Root sequence. Mother Tongue featured a transpiring line of trees in a vast expanse of windows. A mini forest amongst a slew of random oddments was meant to incorporate engagement between visitors and living plants. I enjoyed this transitional space – a room that led to one of the Whitney's outdoor terraces. The trees slowed my pace, and I noticed myself wandering and wanting to take a seat – the wonderful effect of nature within an urban setting.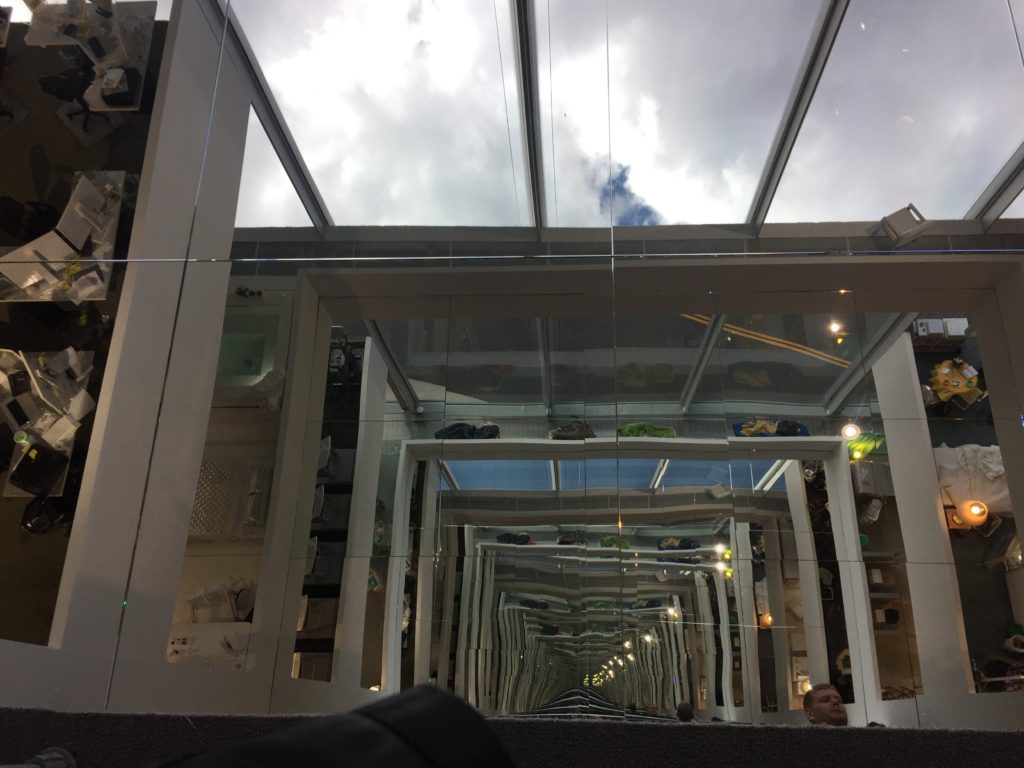 Moving from the life of plants to that of domestic spaces, the work by Samara Golden was both a wonder and a puzzle. Her disorientating infinity chamber featured mirrored installations that created the appearance of a never-ending architectural abyss, filled with familiar scenes.  Nursing homes, offices, gyms, nail salons and living rooms were all designed in miniature, each item inside a kind of eerie replica of the original. These uninhabited spaces, which contain signs of recent activity, are as discomfiting as the creeping sense that you are indeed part of the structure, as you stand observing to one side.
The Biennial is vast – with much to take in, both visually and intellectually. Many works provoked the viewer's participation in the world – economic, political and social. The survey of contemporary American artwork is always fascinating and inspiring, providing a true reflection of the moment in the eyes of our time's most notable creatives.
Bravissimi, artisti!